What to Expect from Grain Furniture
What happens after I make a purchase?
When you hit 'buy', our on-demand manufacturing process kicks into gear. Here's what the whole process looks like. It takes a few weeks to complete.
Step 1: Your order is processed and added to the next manufacturing batch
When you buy something from Grain, the machine file for your order is added to the order book. It's held there for a week or two, while we arrange production with one of our manufacturers.
Step 2: Our manufacturers produce your furniture
Next, the file is sent to the manufacturer and production begins. It takes our manufacturers five weeks to produce a batch of products. Once they're ready, they get boxed up and sent to us in London for quality control and distribution.
Step 3: Quality control
We check them over, then we hand them to our couriers.
Step 4: Delivering to your door
Our couriers take the products to their centralised warehouse, where they hold them for a few days while they wait for orders to accumulate. It means they are more efficient with each journey, as they take more deliveries in each van. Note if you are purchasing a table, desk or bench you will be contacted to arrange a delivery slot. with a furniture specialist.  Smaller items are dispatched via DHL and a tracking number will be provided.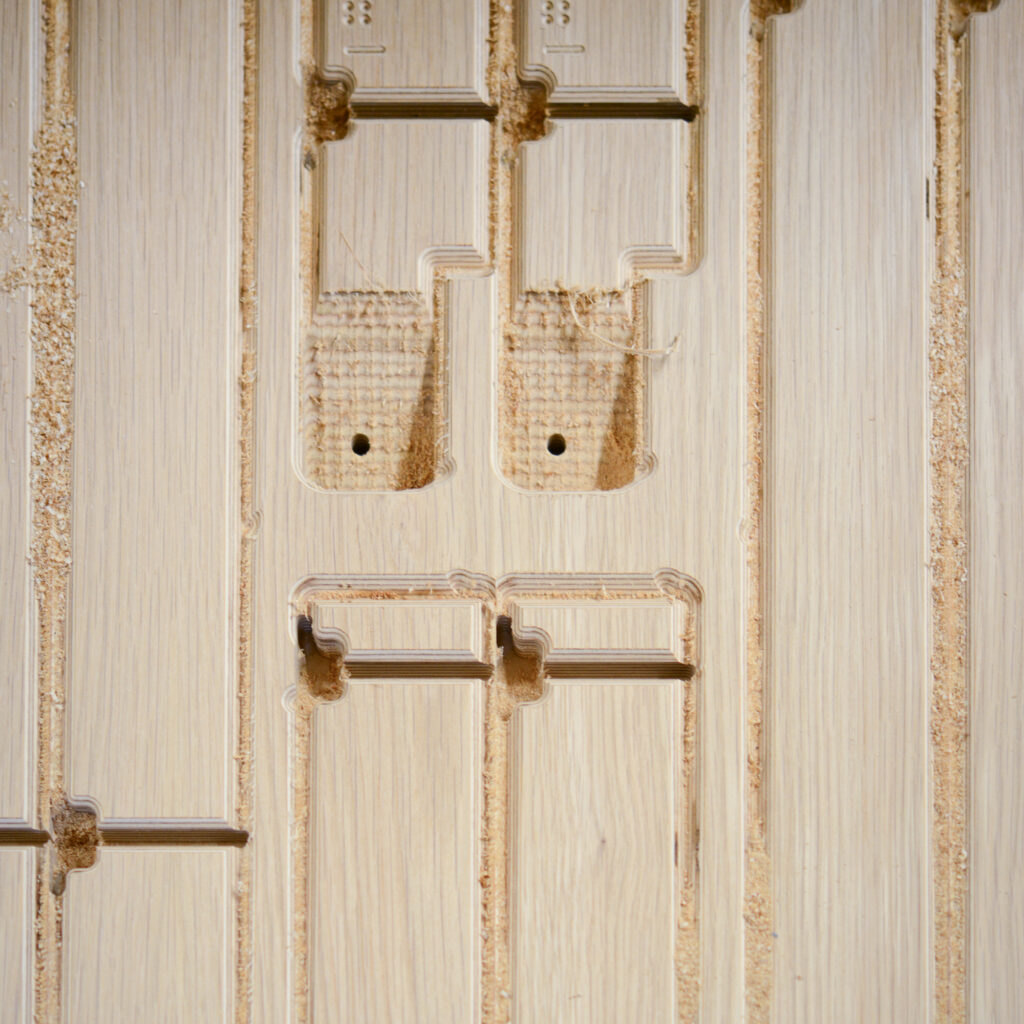 Things to remember about natural materials
Timber has natural variations
Wood, whether it's birch plywood, solid oak or oak veneer, is a natural, living material. As these photos show, any of our products can have knots, fine cracks or tooling marks. It's all part of the joy of natural materials. We choose to embrace the individuality of each piece of timber, and we never dispose of usable material because of natural features.
Sunlight changes the colour of wood and linoleum
The UV rays in sunlight lightens the colour of wood and linoleum over time. These colour changes are very difficult to reverse, so if your furniture is going to be near a window, make sure you don't leave anything on it for a long time without moving it. This is especially important for the first couple of months, when the material will go through the biggest changes when adapting to its new environment.
Use the right cleaning method
Neither wood nor linoleum can cope with the strong chemical solutions of antibacterial cleaners. For the daily clean, just a warm, damp cloth will do. For the occasional deeper clean, dampen the cloth with slightly soapy water. Never use abrasive sponges, bleach, silicone spray polishes or any other harsh chemicals on our furniture.
Read more about looking after natural materials here.
Quality control at Grain
We put a lot of care into making sure our products are made well. We quality check our products at every stage. As raw materials, as individual parts, and as boxed up products. Between these three checks, we manage to catch most issues before anything goes out to our customers.
Since we make our products to order, keeping things in check is really important. If a product isn't perfect, we can't just pull another one off the shelf. If something doesn't go to plan, we have to repair or replace that individual part. Sometimes, this means customers have to wait a little longer than expected for their order.
Most of the time, the small number of minor issues that are caught late stage are repaired by our skilled carpenters. It's the best way we can manage the amount of waste we produce, while still delivering top quality products to all of our customers.
Our furniture arrives flatpacked
Assembling Grain furniture
Fortunately, assembling Grain furniture is really easy. We provide all the tools you need (apart from a drill to mount the Avon shelves), as well as paper instructions and a video tutorial. You really should give the instructions a read before you start, just so you don't damage anything.
Why flatpack?
There's a couple of reasons that we send our products out flatpack. Firstly, it means each trip is far more fuel-efficient. Our couriers can fill their vans with furniture, not big, wasteful padded out boxes.
Secondly, flatpack furniture is so much easier to move around. There's no risk of getting your new table stuck in a stairwell with flatpack, and separate pieces are a lot easier to pick up and move.
Designed for Disassembly
We don't just design our products for easy assembly. We design them to withstand being assembled and disassembled over and over. That means that if you're moving, you can pack it up and move it without having to strap anything to the roof of your car, Mr Bean style.
It also means that if an individual part is damaged, you can contact Grain and get a repair or replacement for that single part. There's no need to replace the entire piece just because of one little component.