Creating a functional space that also looks stylish can be a challenge, but it's not impossible. With a little bit of planning and creativity, you can have a space that not only looks great but also meets your practical needs. Here are our 8 top tips to help you create a functional space without compromising on style.
1. Start with a clear vision
The first step in creating a functional space that oozes style is to start with a clear vision. This means taking the time to think about what you want to achieve with the space, what kind of aesthetic you are hoping to create and how you will use the space.
Think about the time of day you'll be in the space most, the options available for your view, and the kind of natural light that is available. Think about how you work at your optimum and what you can do to help support this. Whether that's creating a minimalist, contemporary look to help keep your mind focused, or a more traditional, rustic feel to help ground your energy. It's often good to spend time in your space, as part of your planning, to simply observe how it changes throughout the day.
Whatever your vision, it's key to have a clear idea of what you want to achieve before you start making any decisions about furniture, decor, or layout.

2. Consider the layout
The layout of your space is an essential aspect of creating a functional and stylish interior. It's important to think about how you will use the space, and what kind of furniture and decor will be required to make it work for you. This means considering factors like traffic flow, seating arrangements, storage solutions, your preferred view while working and any natural light sources. By planning the layout of your space carefully, you can ensure that it is both functional and aesthetically pleasing.
3. Choose furniture that serves multiple purposes
When it comes to selecting furniture for your space, the trick is to choose pieces that serve multiple purposes – especially if your space is on the smaller side. This can help you to maximise space, and keep it practical. The obvious one is tables and desks that can double up and be used for dining and working. But this also applies to your storage needs and sleeping spaces!
If you need your space to serve multiple purposes then a sofa bed can provide extra sleeping space for guests, while also serving as a comfortable, alternative option to sitting at a desk all day. Plus having a set of nested side tables is a great additional surface to place drinks, snacks or reading material.
4. Incorporate storage solutions
Choosing the right shelving storage is key – not only can it serve as a place to store books, files and folders but also decorative ornamental pieces to give your space a touch of style as well as function and plants are the perfect way to bring a slice of nature indoors, creating a sense of calm.
For those of you whose work includes arts and craft then you'll be looking to create more of a studio work space – having a customisable open shelving system is a great way of adapting a storage system to your space and having all your materials easily accessible whilst you're busy creating. There's nothing worse than having to dig through drawers, cupboards and boxes looking for the right tool when your creative juices are flowing!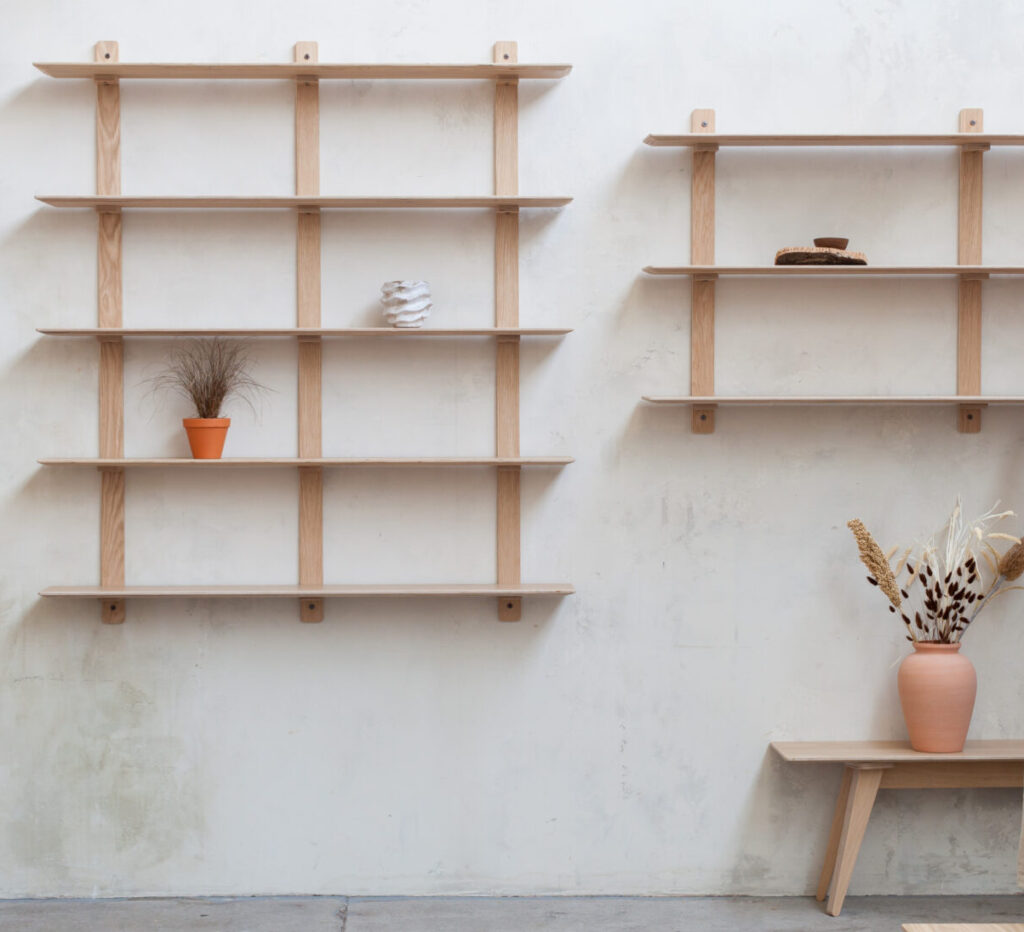 5. Pay attention to lighting
Lighting is another crucial aspect of creating a functional and stylish space. By incorporating a variety of lighting sources, you can create a warm and welcoming atmosphere that is also practical and functional. We recommend playing with a mix of ambient lighting, task lighting, and accent lighting, as well as considering the natural light that enters the space throughout the day.
With working from home now commonplace and a fluctuating housing market there's been a marked increase in the number of households extending their property instead of upgrading to larger homes to accommodate working from home. With that in mind we reached out to the house extension experts Resi for their advice on lighting.
"We've always been obsessed with natural light as it has an enormous effect on our physical and mental well-being and in recent years it has become one of the most important and sought-after features in the home. Strategic natural light can help heat or brighten a space making it feel cosy and inviting and in the case of working from home, has been shown to increase concentration and focus all while keeping energy costs low (providing you choose windows that have a low U-factor, a measure of how well a window blocks heat loss)."
6. Add pops of colour and don't be afraid to mix styles
Colour can add a lot of visual interest to a space, and it's an easy way to make a functional space look more stylish. Consider using pops of colour in your furniture, decor, and accessories to create a cohesive look that's both practical and visually appealing. You could paint an accent wall or add a colourful area rug to make the space feel more inviting.
Colour and pattern can be used to create a stylish and inviting space, but it's important to use them strategically to ensure the space remains functional. This means choosing calming and soothing colours, while also providing enough contrast to make the space feel dynamic and interesting.
Similarly, patterns can be used to add texture and interest to a space, but it's important to choose patterns that complement one another and don't overwhelm the space, or your mind.
If you're not sure which colours could work in your home office, our handy samples can help you explore the different colour and desk finish options – allowing you to mix and match in your space without having to commit until you're completely sure of your vision.

7. Incorporate natural elements
We love bringing natural elements into our spaces to offer a sense of calm while helping to boost creativity. Try combining leafy greenery and pot plants with wood furniture pieces – open wall shelving acts as a great base for your indoor plant to go wild.
Adding earthenware pottery and ceramics to an exposed shelf is another way of giving your work space a natural feel, play with different textures and a pop of colour with assorted dried flowers – the ideal compromise if indoor plants aren't your thing.
8. Keep it simple
When it comes to creating a functional space that looks stylish, less is often more. Avoid clutter and too many unnecessary accessories, instead opt for clean lines and minimalist design with a few accent pieces here and there. Keeping your design simple and streamlined will help to meet the brief of creating a home working space that is functional and practical whilst looking good too.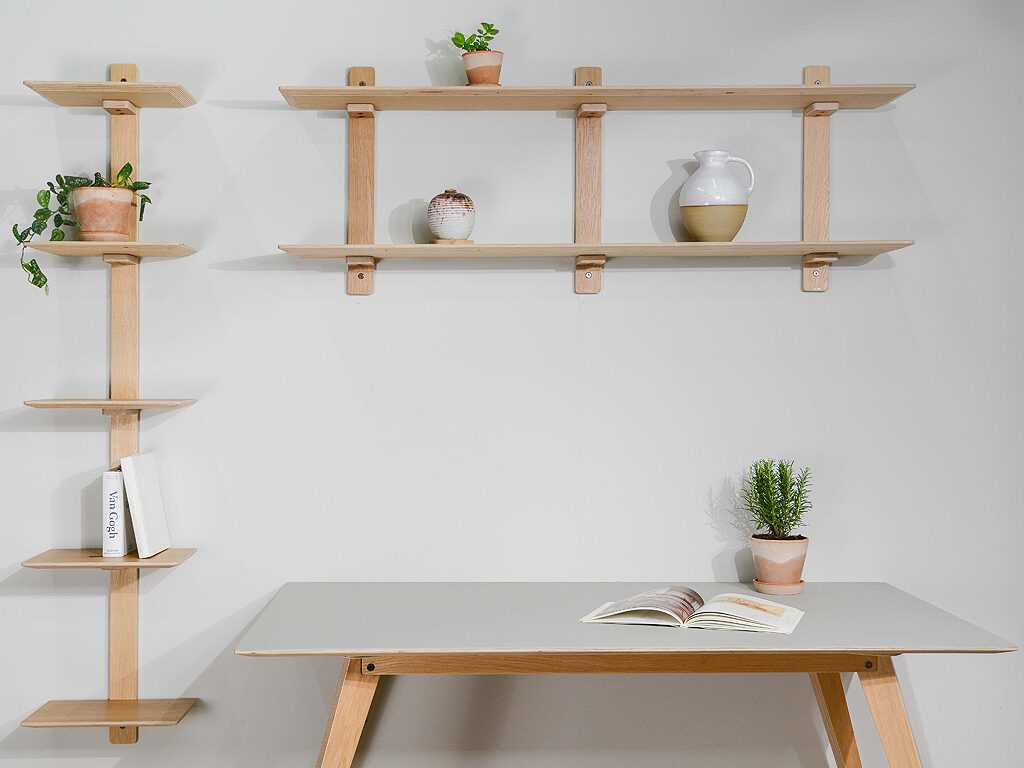 In conclusion, creating a functional space without compromising on style is all about finding a balance between practicality and visual appeal. By starting with a clear plan, choosing multifunctional furniture, using storage creatively, paying attention to lighting, adding pops of colour, mixing up patterns and materials can all help to achieve a space that feels inspiring and calm, helping boost productivity while creating an ambient and stress free environment to do your best work.
See Our Popular Brenin Desk in Action
With nine different lengths, two widths and a choice of oak veneer finish or six earth coloured, easy clean linoleum tops the Brenin Desk can be configurated to fit almost any space and will easily blend with your chosen decor. Check out how Mark has styled out his home office with a desk suitable for two spaces – his personal home computing space and his business space. Genius!  Thanks so much for sharing with us Mark.
Got a home office set up worth sharing?
We'd love to see your work space vision come to life – share with us your home office space and any design tips by tagging @grainteam and using #grainofficeinspo or send your photos and top tips to us via [email protected] to be featured on our Instagram.
Our Home Office Furniture Top Picks