Customised Furniture.
When it comes to furniture, the smallest measurement can transform a space. That's why we make space conscious furniture.
Now you can maximise usable floor space without compromising on seating, or fit the biggest possible desk into the weirdest nook. Once you know your perfect size, pick your design from our range, customise it using our online workshop, and we'll make it to the centimetre. When we say 'make it yours' we really mean it.
In this blog we will show you why size matters, and exactly how it has benefited some of our customers already!
Size of table vs people seated

Let's start with the basics – based on our research the ideal place setting is on average 54cm x 36cm, this allows ample arm room and a comfortable space to eat. In the example below, the table settings on the left are on an industry average dining table size for 4-6 people (across the 15+ retailers we researched). On the right you can see the same number of place settings on a custom-sized table that one of our Seed customers has in their kitchen.
As you can see, by reducing the table 10cm in length and 15cm in width you can still seat the same number of people in both layouts, but you gain a total of 150 square centimeters around the table – which can be the difference between shuffling past and walking freely. These small changes can make all the difference in your home.
See below how an extra 15cm has made a difference to Abi's life…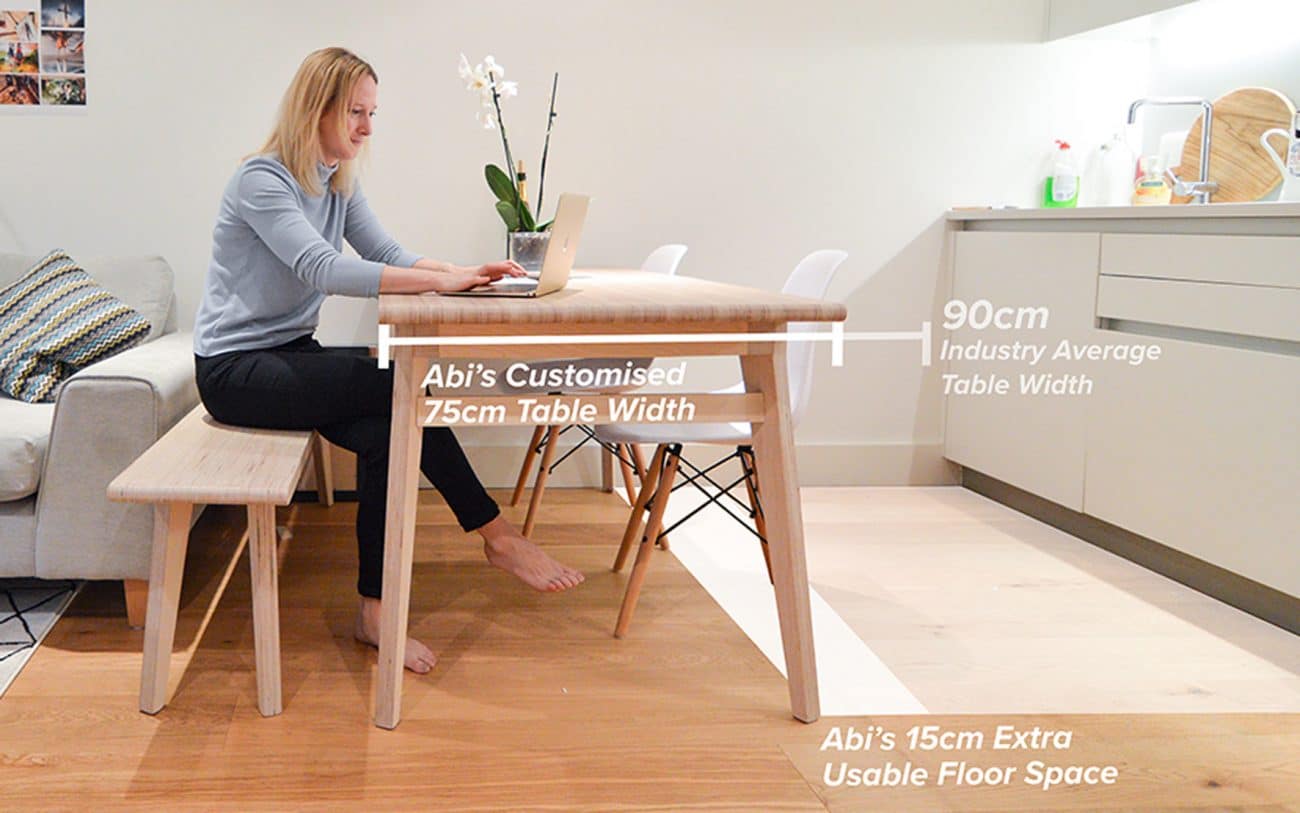 This is Abi's one bedroom flat. If she hadn't had a choice over her table width, she would have lost a decent chunk of floor space in her kitchen area – at 75cm she can still comfortably sit six around her table and a further 2-4 more once it's extended. So she's gained some valuable floor area, making her flat feel as big as possible- lot's of visible floor is key to making a room feel spacious, something that's reflected in how we design our products (basically keeping them as light a presence as possible!)
By all means, If you've got the space to fill why not have it as wide as you like, and maximise that extra sharing space in the middle of the table. With most of our dining range also having the option of an extender, you can finally fit the table to your life and not the other way around!
Grace needed a table that fitted into her dining area without taking over the room – she also wanted to be able to have the whole family over for dinner.
Grace's table is an extender and offers her the option to seat an extra 2-4 people once extended, there's also enough space round the table to make the room feel spacious so little Theo can run around without obstruction.
Why not head over to our online Customiser to play around with some of our tables, so you can see that having the perfect sized furniture won't cost you a fortune.
We know this may not be something you're used to so if you're not sure or need any help at all, email us at chatter@grain.co.uk and we'll help you make the right decision.