At this year's 100% Design event, we went to spread the word- letting everyone know about our Sustainable Flatpack furniture. We had some amazing feedback, and have been filled with enthusiasm for the future.
Not just for the future of Grain, but the future of the furniture industry as a whole. Chatting with top interior designers and architects revealed the pressures their clients put on them to create sustainable spaces, and to offer something new and refreshing.
Luckily, breaking all the rules and doing things differently doesn't bother us, in fact, it's kind of our thing. 
100% Design 2019 showed glimpses of a furniture rebellion and we loved it. Like us, sometimes fairly unconventional but innovative brands bring a fresh perspective to the industry. This year with an overarching theme on protecting the environment and sustainability.
The 'Poise Collection':
Desmond Lim, was no exception to doing things differently. The 'Poise Collection' is a very well-thought-out concept that got us all excited. Using added weight as a structural element allows new and exciting forms that are otherwise not possible to achieve without it. 
There is an honesty to Desmond's work that takes these pieces beyond the realm of just furniture, feeling like functional pieces of art and sculpture, with a positively sustainable twist.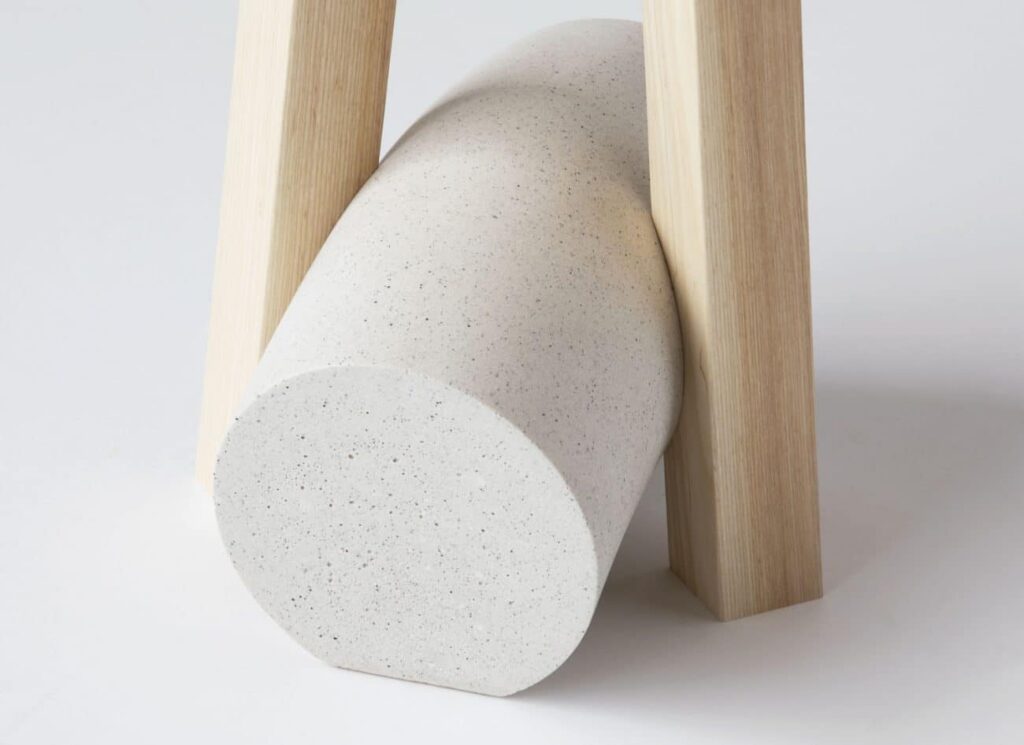 The cast-weighted bottoms are constructed from the leftover waste collected from the marble and copper industries. That's a huge thumbs up from Jamie and the Grain Team! @dlimstudio
Duck Head Green Studios:
Milo Tonry Brown is taking on the challenge of overcoming the use of (touchy subject alert), PLASTIC! The P-word has become hated and targeted heavily by the media but that has not stopped Milo. We too are a strong advocate for utilizing the most appropriate materials at Grain, and whilst we don't use plastic ourselves, we admire the guts this young designer has taken to fight for the material. Milo has made a great case that whist plastic can be a hazardous material, it also has many wonderful and even sustainable qualities.  
'Plastic is an amazing material, but often used in the wrong way. I am celebrating plastic by using it as a joining method for long-lasting furniture. At the end of its life, the plastic can be removed, reheated and reinjected to repair old furniture or into new projects.' Milo
Milo's concept shows how plastic can be used within the Circular Design Economy and therefore live on infinitely, as an alternative to harmful adhesives and excessive hardware. @milotonry96
'Hidden beauty':
Clemence Grouin Rigaux, a graduate MA Material Futures at Central Saint Martins looks at industrial waste from a new angle. Clemence's concept is bold and a great example of how furniture design can be more than form and esthetic, it can tell a story. ' Hidden beauty' is the project that caught our attention, and rightly so… Clemence is using leftovers from the meat industry to develop her products! 
 'Abattoir waste can have a detrimental effect on the environment, public health and animal health if they are not effectively managed and controlled' Clemence.
Clemence has taken blood, skin and bone and transformed them into something truly beautiful, modern and unapologetic. Her material is biodegradable, recyclable and compostable. A great example of designers leading product and interiors in new, sustainable and even sometimes controversial directions. @clemencegrouinrigaux
That's Caffeine:
From offal to Coffee, Atticus Durnell is another designer looking at how we can combat waste. 'That's Caffeine', is the brand founded by Atticus that recycles used coffee grounds from local coffee shops. 
Atticus has set up a studio where he explores this new material and plans to develop his mixture of 'biobased binders, minerals and plant-based resins' to create some truly innovative products. 
The star of the collection for us was That's Caffeine's wall tiles. They are a fantastic and sustainable alternative to plastic and concrete cladding, for both interior and exterior projects. We are excited to see what new products Atticus has up his sleeve. @atticusdurnell 
I've attended every show since 2011 and exhibited at the last two. As every year, there are always beautiful brands showcasing some of the best furniture on the market. Pieces to photograph, touch and drool over. This year, however, I felt a shift in the number of brave designers who came and really made a statement. It was these areas that really excited me. Doing things differently, willing to develop their own process and practice to shift the industry standards of today for a better tomorrow. I wish everyone featured here the best of luck in the future and it was a pleasure learning about your work.  
Jamie